Système d'Arrosage

Arrose vos plantations automatiquement. On dirait qu'il manque la batterie.

REQUIRES:

You are using mobile version of "Infobox Components tabs"! We recommend viewing this page via "PC mode" or by switching to the desktop skin!

5

Type

Food & Water/fr
Le Système d'arrosage est un élément de Nourriture et Eau dans Raft.
Résumé
[
]
La fabrication du système d'arrosage s'apprend en utilisant l'Établi. Après avoir fabriqué un système d'arrosage, posez le sur le radeau à côté de vos carrés d'herbe, carrés d'herbe qui serviront à nourrir votre Bétail, après y avoir placé une Batterie en état de marche, votre système d'arrosage arrosera automatiquement vos carrés d'herbe quand ils auront besoin d'Eau Fraîche. Il sert également à arroser vos Parcelles de Culture. Le système d'arrosage couvre une zone de trois par trois (voir Galerie). Un système d'arrosage fonctionnel permet d'arroser jusqu'à 30 fois avant d'avoir besoin d'une recharge d'eau, vous pouvez utiliser de l'Eau Salée ou bien également de l'eau fraîche.
La batterie insérée dans le système d'arrosage perd une charge pour un arrosage. La batterie dispose d'un total de 50 charges avant d'arriver à épuisement de cette dernière. Ce qui signifie qu'après 30 utilisations, une recharge en eau suffit pour que la batterie arrose de nouveau jusqu'à 20 fois, avant de tomber en panne.
Le système d'arrosage fonctionne par cycles de 5 secondes. Ce qui signifie que toutes les 5 secondes, le jeu vérifie si un objet a besoin d'être arrosé, si ce n'est pas le cas, le système d'arrosage ne fait rien. Si le jeu détecte un objet nécessitant un arrosage, le système d'arrosage se met alors en fonctionnement et arrose l'objet en question.
Les Utilisations
[
]
Nécessite une batterie fonctionnelle.
Carrés d'Herbe ou parcelles de culture.
Remplissez le système d'eau fraîche ou d'eau de mer.
Galerie
[
]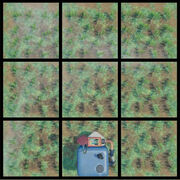 Historique des versions
[
]
Accès anticipé

Update 9
Le Système d'Arrosage est ajouté au jeu.