Redbeet Interactive
Redbeet Interactive is a small studio founded in 2017. It is based in Skövde, Sweden, and consists of four graphics artists, two programmers, a community manager and an intern.
Their only creation is the game Raft.
The original team all attended the Game Design program at Uppsala University, Campus Gotland, where Raft was conceived as a student project for the course Game Design in Practice (GDiP). The project was conceived as a response to the course's main goal: "Identifying a market need, prototyping a game to be tested by that market and examining the steps needed to launch a new business project"[1].
After its popularity increased, André Bengtsson, Ellen Mellåker, and Semih Parlayan decided to make their studio: Redbeet Interactive. After some time, they decided to expand the team.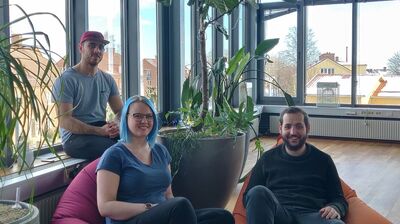 Redbeet Interactive employees as of July, 2020[2].
The team works a 7-hour work day and offers wellness grants, as well as insurance and occupational pension to their employees. Their office has table tennis, a Switch and VR equipment for break activities. [3]