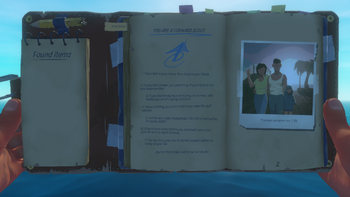 The Journal is the in-game interface for some early game tips for playing the game, reading Story related notes, and managing Quest Items in Raft. By default it is opened using the [T] key.
Summary
[
]
The Journal holds notes, transcripts, diary entries and more, which together flesh out the background for the lore of the Raft world. Most of the time is not necessary reading the Journal in order to complete the game, but it adds flavor. Reading all the content of the Journal unveils events that have taken place at the verious Story locations throughout Raft. Many of the notes are obscure read by themselves, so it is necessary for the player to decipher and interpret the notes as they are gathered and collected.
Picking up a note will add it to the relevant section in the Journal. All entries are added to a predefined spot, which are categorized according to location. As a result, players are able to deduce whether notes from a specific location are missing based on the empty spaces in the Journal. Additionally, the "Historian" Achievements are awarded once all notes of a specific location has been found.
All Quest Items are displayed in the left side of the Journal. Once they are used, they are removed again. Some Story islands provide more Quest Items than are necessary to progress, which results in some Quest Items staying in the Journal indefinitely.
An interpretation of the game's notes and lore can be found on the Story page linked in this article's opening.